Date and time:
Wednesday, June 24, 2020 (All day)
to
Sunday, June 28, 2020 (All day)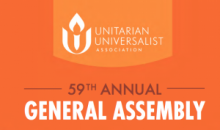 The Unitarian Universalist Association announced in April that their annual meeting, General Assembly, will be a 100% virtual event this year. Ordinarily, the UU Humanist Association looks forward to its presence in the Exhibition Hall to meet and to expand our membership. But just because we can't meet in person this year doesn't mean those attending GA online won't see us! Here's where you can find the UUHA at GA, from the comfort of your computer:
A "Virtual" Exhibit Booth
The UUHA will participate in the GA Virtual Exhibition booth. If you registered for GA, you should have received information on how to attend. Just log into the GA Participant Portal, and click on the "Exhibit Hall" channel on the left menu bar. Scroll down just a little bit and you'll find us!
Learning Stage Presentation
Members of the UU Humanist Association Board will also give a webinar as part of GA's "Learning Stage" video series. If you're interested in hearing from the UU Humanist Association Leadership, our presentation will be held on the Zoom Video Conferencing App.
Details are below:
Date: Friday, June 26,
Time: 3:30 pm to 4:00 pm (EDT)
Log in to the GA Participation Portal to access the meeting. We all hope to have the opportunity to do this in person next June in Milwaukee, but till then - see you online!